The US Soccer team has kept me on the edge of my seat so far this World Cup. I have been handed my fair share of highs and lows. Dempsey chest and Jones' rocket for goals yesterday were highs. Ronaldo's amazing assist for the equalizer, low. After yesterday's tie I wanted to know what all the US soccer scenarios are, for the team to advance. So I turned to my friend Google to find out all the possibilities for the "Death Group", aka Group G.
After a semi disappointing tie Sunday night, Google only assured me of what I was thinking. The United States faces a crazy array of possibilities heading into its final match in the World Cup's group stage. Here is what I found and the basic facts to keep in mind. The US Soccer team will advance to the elimination round by:
US Soccer Scenarios – The Easy Way
The US gets a win or a tie against Germany on Thursday.
US Soccer Scenarios – The Complicated Way
If the US loses to Germany.
When I say "complicated" I mean complicated! But it can be broken down. This chart, which is from Andy Keller, explains what happens to the US in every scenario in the two remaining Group G games.
Click on the chart below to expand it.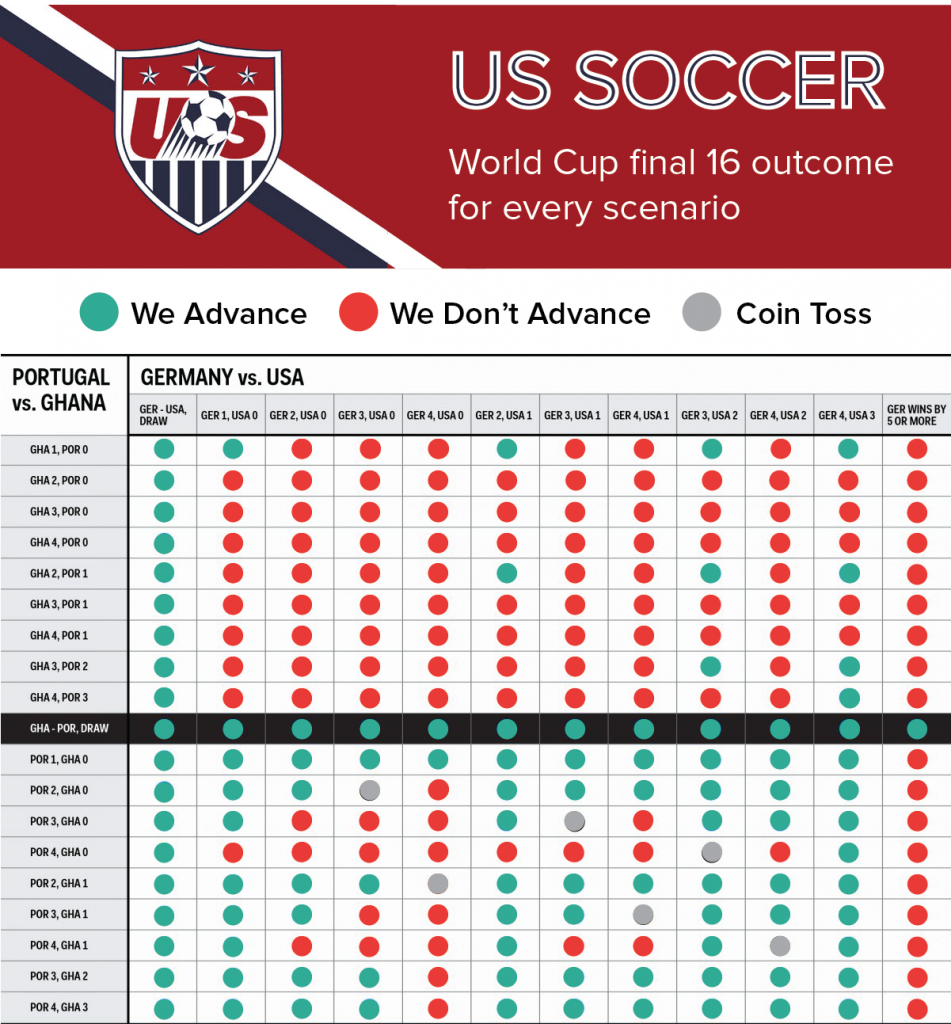 There are so many outcomes depending on both games that are left in Group G. The US hasn't let our country down yet, and there is no reason to stop believing. I believe. Go US!
To get you as excited as I am for the next game against Germany, check out this song made by a Utah Native, Branden Steineckert, who is one of the founding members of The Used, current drummer for Rancid, and the originator of 'Believe' for my hometown team Real Salt Lake.